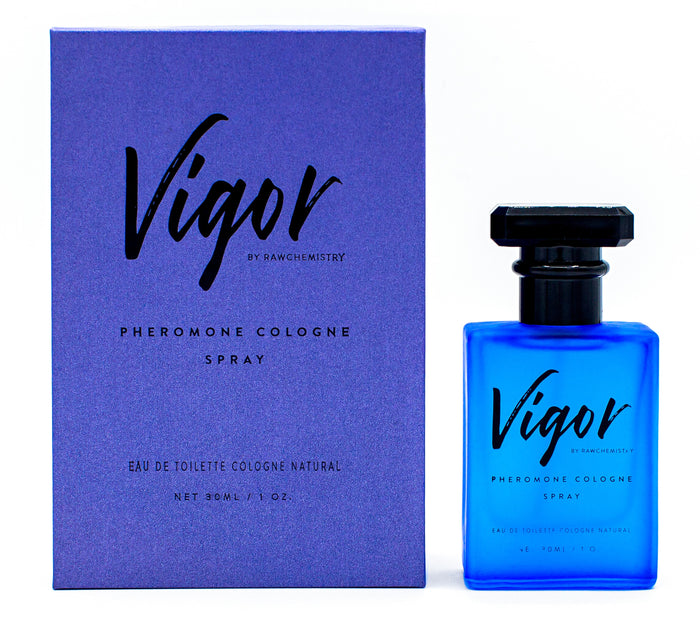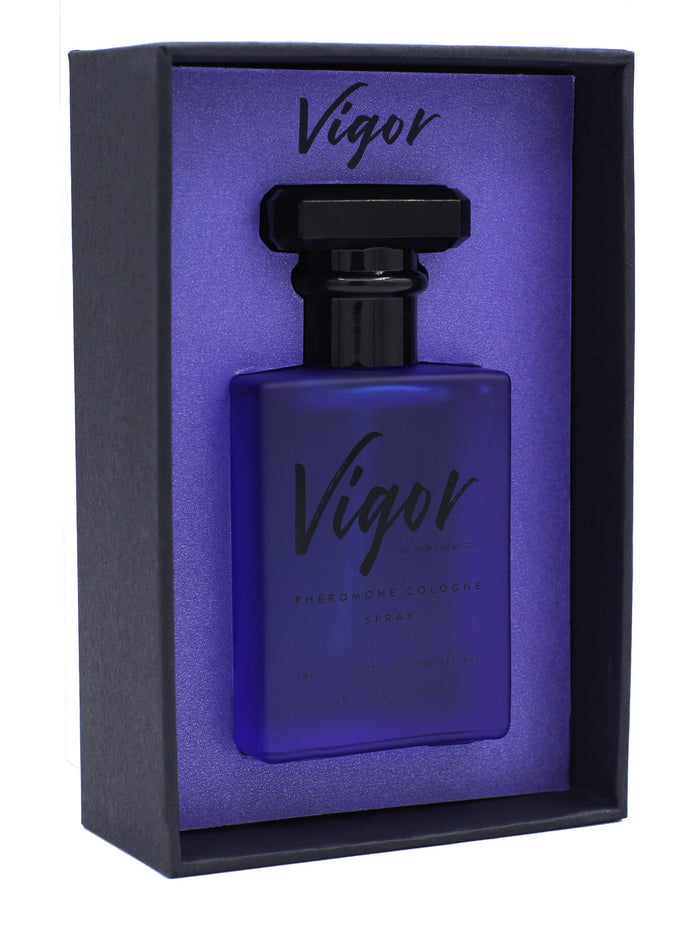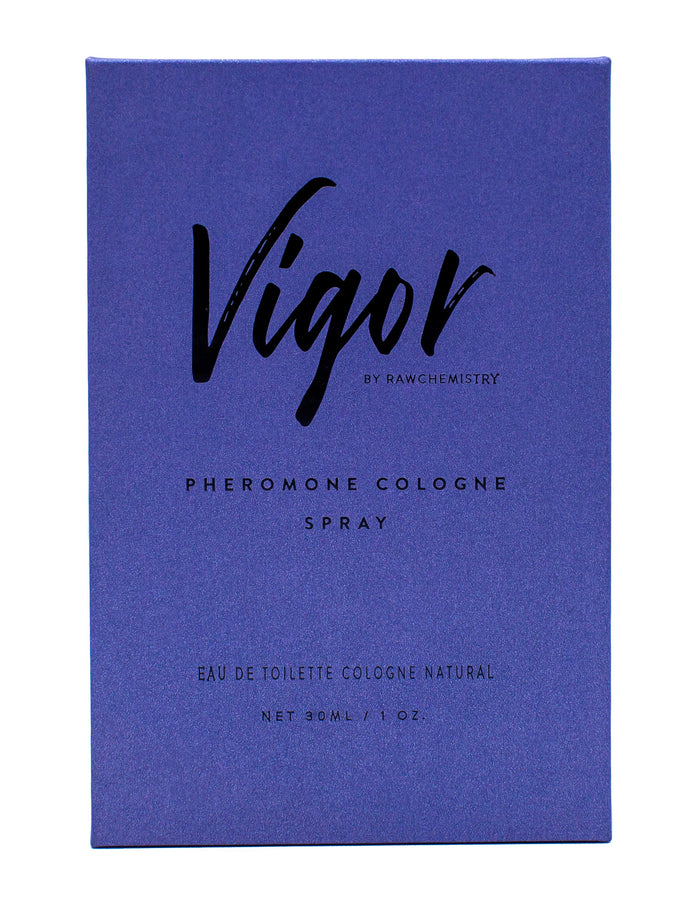 Vigor Pheromone Cologne by RawChemistry
Whether it's a long day at the office, jumping out of the shower at the gym, or enjoying an exhilarating night out, Vigor adds a boost of raw masculine appeal to your presence. This versatile men's pheromone cologne stimulates and invigorates the senses, creating a desire for more.
Highlights
This worldly, enticing cologne for men enlivens your vitality and drive to attain the most in life, with fresh cucumber, energetic orange and lemon, relaxing lavender, salty seaweed and crisp green pistachio.
This pheromone spray is designed to attract, entice connection, and boost confidence.
Crafted in the Pacific Northwest, our all-natural pheromone spray delivers the incredibly fragrance and highest pheromone absorption.
View Product FAQ
Size: 30 ml
$29.90
Free Shipping on all US orders
A MASCULINE SCENT TO ENERGIZE, AROUSE AND ATTRACT
This rugged fragrance for men is built from unrefined elements of nature, world travels, and intimate moments. Vigor by RawChemistry blends with your own pheromones to create an experience unlike any other. Fresh, bright top notes hang above a spicy, masculine base layer of leather and intoxicating vetiver. This is the best cologne for men to add a robust layer of strength and trustworthiness, from the workplace, to nightlife, to the wild, and everywhere in between.
Oils extracted from the top standard plants and seeds

Alcohol-Free, silk-based oil blend

Hand-inspected by our Pacific Northwest factory

A blend of natural oils that assist in attracting through the sense of smell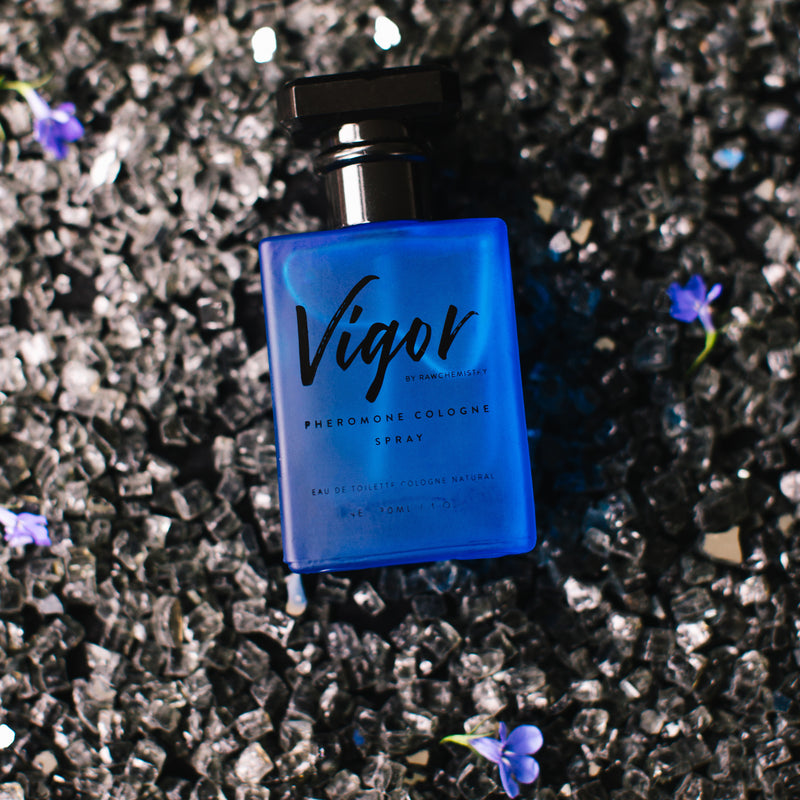 Learn More about Vigor Pheromone Cologne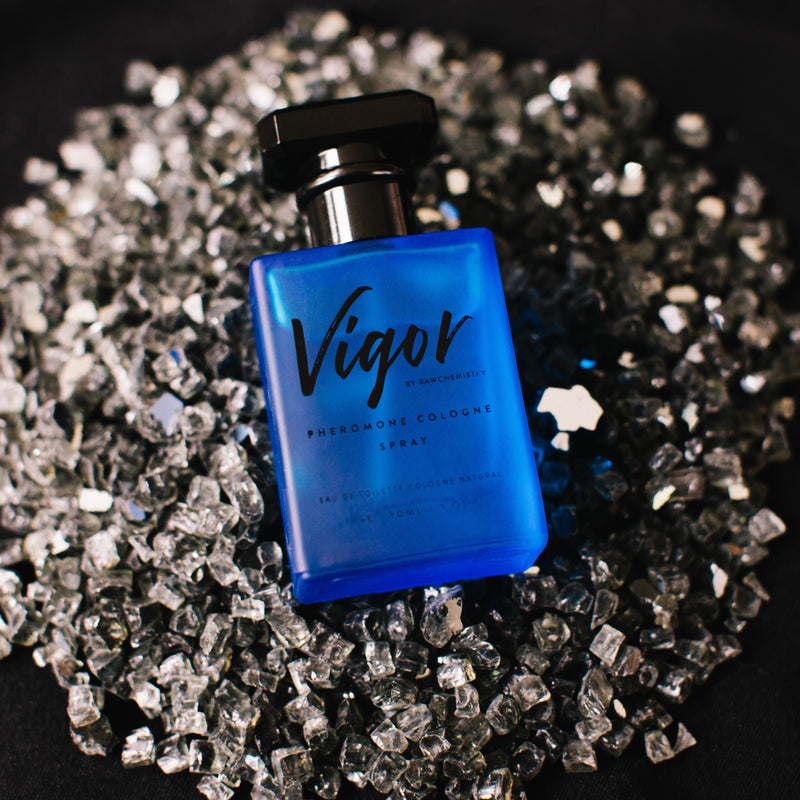 Where do I place the fragrance on my body?

Apply the given product to your heat points, also known as pulse points. These points are behind the ears, along the jawline and at the wrists. These are the nooks where your body naturally emits more heat and, therefore, maximizes the effect of the product.

How long does RawChemistry pheromone fragrance last? How often do I need to reapply?

The length a scent lasts depends on the wearer's skin. The drier a person's skin, the faster the product is absorbed by the skin. The more oil skin tends to have, the longer the product lasts.

For drier skin, to maintain freshness it typically requires application every 6 or so hours.

For more oily skin, the product may stay fresh as long as 10 hours.

How natural are the RawChemistry products?

Very natural. No silicones. No parabens. We keep our products as raw as our name implies. Rooted in a belief that what we put on our bodies matter, we provide an almost entirely organic product that truly delivers a holistic health experience for your daily routine.

What do your perfumes/colognes smell like?

The scent is an enigma. A mystery of sorts. The ingredients enhance a different sense to every nose and palette. While some declare they have an Earthy scent, others say Irish spring, while one more will claim vanilla. The only way to find out for yourself? Try a cologne or perfume.

What is inside RawChemistry products?

There are 27 various all natural oils and ingredients that come together to create the magnetizing, natural products.
What our customers have to say
Customer Review Images
She thinks it smells amazing.
I bought this cologne for my wife, and she thinks it smells amazing. Makes me feel great when wearing.
Oct 27, 2022
Awesome product.
Awesome product, will be buying again
Dec 26, 2022
Recommended to all guys.
I recommend this guys. Well worth the money. Smells great and it does last a long time.
Jun 10, 2022
Will start conversation to women.
Great smell. Helps open the door to start conversations with women. I'll be trying other fragrances here soon.
Aug 30, 2022
Smells good.
Smells good, but the cap came broken.
Nov 21, 2022
My daily cologne.
I've used a lot of the other Raw Chemistry pheromone fragrances in the past, but I must say that this is my favorite. Vigor is pretty new and has quickly become my daily cologne.
May 24, 2022
Received so many complements.
I think this cologne is so awesome. It accentuates your body's natural fragrance while also giving it a slight twist. Vigor has a great masculine, energizing fragrance to it but when it's been put on it can change completely. I receive so many more compliments when wearing it, so much so that I'll be back to try out the other scents too! Thanks Raw Chemistry!
Jun 15, 2022
Game-Changer
This cologne is a game-changer when it comes to smelling masculine! Works well with my body, doesn't leave me itchy like some other colognes. Overall a great purchase that I'll be making again soon.
Mar 22, 2022
Not Happy.
The sprayer was completely broken by the time I received it. NOT HAPPY. I don't know what it smells like because it never worked!
Nov 1, 2022
Smells great
Smells great
Jan 4, 2022
My go-to choice for attracting women.
This has quickly become my go-to choice for attracting women. It has everything that I'm looking for, all down to the price as well.
Jan 12, 2023
Got me a lot of attention.
Everyone seems to like it its got me a lot of attention
Jan 18, 2023
Great Product at a Great Price
Love the way the product works. Has a great smell and great price. My wife loves when I wear it.
May 18, 2023
Crisp and clean
Smells good and lasts for hours. I'd say it was worth the buy.
Mar 26, 2023
great
Overall this cologne is amazing. I get so many compliments and attention it's insane. I walk around feeling so confident every single day. Every man needs to have this!
Mar 30, 2023
New favorite cologne
You definitely get your money's worth with Vigor! It smells very good, not overwhelming at all. I'm definitely going to buy either this or another one as soon as I run out.
Apr 6, 2023
Well worth it
All I can say is "it works". I don't think I've ever received as much attention from the women in my life before.
Apr 14, 2023
Mariano
Verified Purchase
Apr 18, 2023
Great cologne and fragrance
Great product
Apr 28, 2023
Ladies will be all over you
My girlfriend loves it
May 3, 2023
Good stuff
Myself as well as those around me really like it. The scent is great. I do wish it lasted a little bit longer.
May 17, 2023
Great smell
Bought Vigor as a blind buy, glad I did it smells great alone, but will use as a second layer. Will definitely buy again. If you're thinking about buying it, go ahead you won't be dissatisfied.
Sep 7, 2023
Thank you
{{ props.reason }}