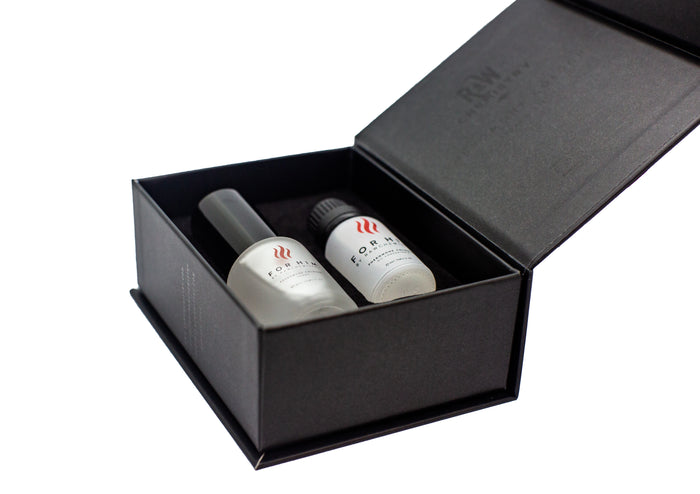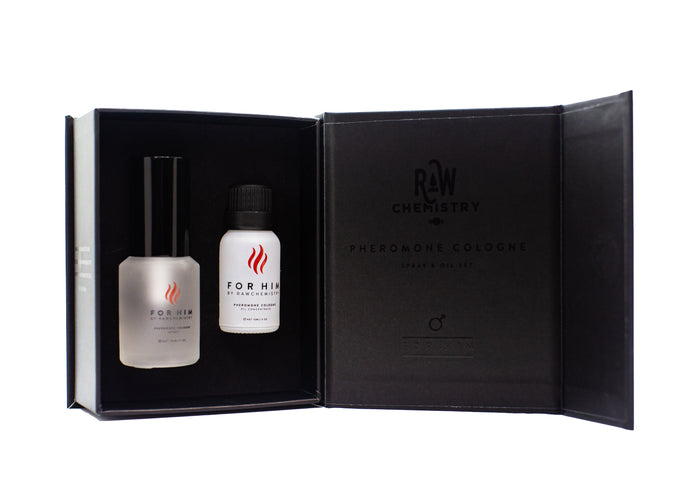 For Him by RawChemistry Pheromone Cologne Gift Set
Tip your hat to the most effective, BEST men's pheromone cologne for men, now in a convenient gift set. Crafted to boost confidence and dubbed the #1 fragrance on Amazon, this is the natural solution you've been waiting for. 
Highlights
Crafted in the Pacific Northwest, our all-natural pheromone spray delivers the incredibly fragrance and highest pheromone absorption.
This pheromone cologne set is designed to attract, entice connection, and boost confidence.
Each micro batch is made with ethically-sourced and sustainable ingredients, and inspected by hand to ensure the highest standards.
View Product FAQ
Size: 1.5 oz
$42.50
Free Shipping on all US orders
For Him by RawChemistry Pheromone Cologne is an ideal scent that attracts, as well as helps in fostering other connections.
The For Him Pheromone Cologne Gift Set is an ideal scent that attracts, as well as helps in fostering other connections. Silk-based, our pheromone cologne is fantastic for sensitive skin and provides a long-lasting scent.
A blend of natural oils that assist in attracting through the sense of smell

Silky Smooth, Moisturizing Blend to Increase Pheromones Absorption

Long-lasting effect and aroma

One of The Best Scented Colognes for Men

The #1 Pheromone Blended Cologne Available Made in the USA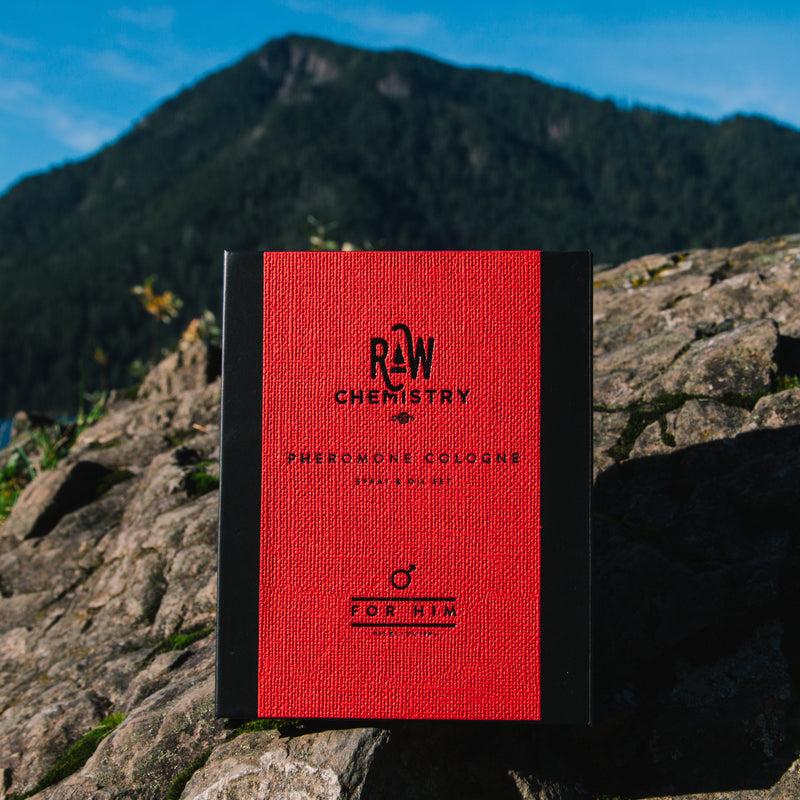 Read more about our For Him Pheromone Cologne Gift Set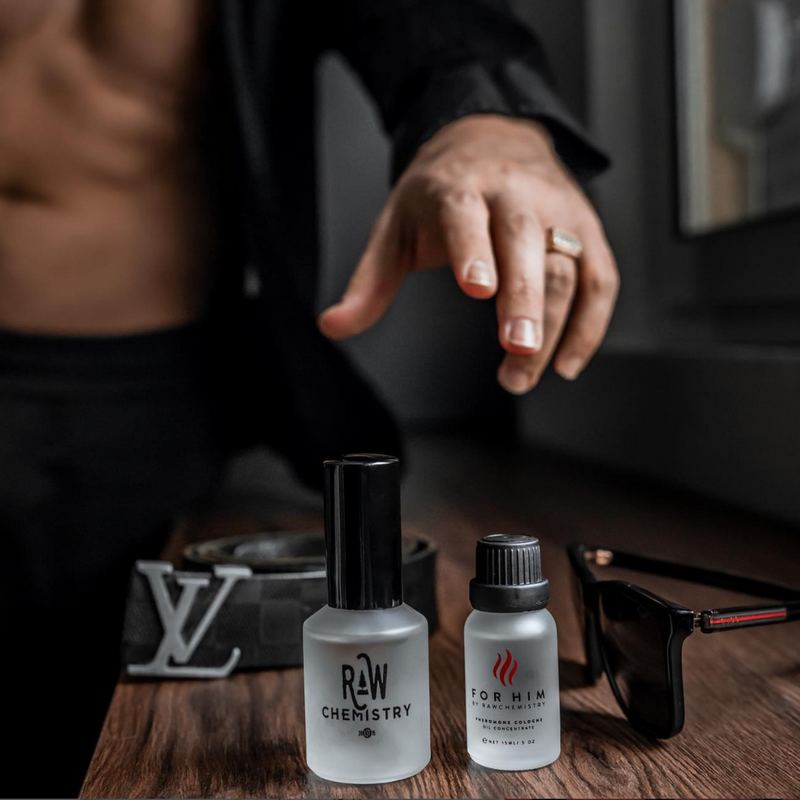 What is the difference between the two bottles in this gift set?

Both products contain the same total amount of pheromones per bottle, as well as our signature For Him fragrance. The difference comes down to concentration and application method.

Our oil is a smaller bottle, but the fragrance and pheromones are more concentrated, requiring less to apply for your desired fragrance effect. It is applied through the stopper, similar to other essential oils.

Our For Him Cologne Spray has, of course, a sprayer, which can be an easier application method for some.

Where do I place the fragrance on my body?

Apply the given product to your heat points, also known as pulse points. These points are behind the ears, along the jawline and at the wrists. These are the nooks where your body naturally emits more heat and, therefore, maximizes the effect of the product.

How long does RawChemistry pheromone fragrance last? How often do I need to reapply?

The length a scent lasts depends on the wearer's skin. The drier a person's skin, the faster the product is absorbed by the skin. The more oil skin tends to have, the longer the product lasts.

For drier skin, to maintain freshness it typically requires application every 6 or so hours.

For more oily skin, the product may stay fresh as long as 10 hours.

How natural are the RawChemistry products?

Very natural. No silicones. No parabens. We keep our products as raw as our name implies. Rooted in a belief that what we put on our bodies matter, we provide an almost entirely organic product that truly delivers a holistic health experience for your daily routine.

What do your perfumes/colognes smell like?

The scent is an enigma. A mystery of sorts. The ingredients enhance a different sense to every nose and palette. While some declare they have an Earthy scent, others say Irish spring, while one more will claim vanilla. The only way to find out for yourself? Try a cologne or perfume.

What is inside RawChemistry products?

There are 27 various all natural oils and ingredients that come together to create the magnetizing, natural products.
What our customers have to say
Customer Review Images
Very great product!
Very great product!
Mar 17, 2023
Sincerely impressed with the compliments I receive.
Great fragrance for everyday use. I'm sincerely impressed with how many good compliments I receive when wearing For Him. I really love this product, will definitely get again. I seem to go through the concentrated oil a bit quicker than the spray cologne, but the gift set is a huge help.
Sep 30, 2021
Scent is okay
Scent isn't bad, but it doesn't last at all.
Nov 30, 2021
Smells amazing and lasts forever.
Bought this as a small gift to my husband and he absolutely loves it! It smells amazing and lasts forever. A little but of the oil goes a long way. He applies the oil in the morning before he leaves for work and then keeps the spray at work for a little refresher whenever he needs it throughout the day. I think we're both in love with it!
Sep 26, 2022
Brandon
Verified Purchase
She said I smelled amazing.
My girl noticed right away when I bought this and put it on. She said I smelled amazing. 10/10 in my book, that's all I needed.
May 30, 2022
Braxton
Verified Purchase
Strong scent for that price.
I thought the scent would be stronger for the price.
Jun 2, 2022
Cameron
Verified Purchase
Jun 8, 2022
Smells so sexy.
This stuff smells so sexy MMMMMMMMM
Jun 10, 2022
Outsanding.
Outstanding product
Aug 24, 2022
It lasts long.
I didn't think that the spray lasted very long at all. The oil does last for about 8 hours before needing to be reapplied.
Sep 12, 2022
Gives me incredible confidence boost.
This For Him cologne stuff is not simply JUST a cologne. It triggers something in the brain of women. They're very friendly when I wear it, which in turn gives me an incredible confidence boost.
Sep 14, 2022
I'm a believer.
A buddy recommended this to me claiming it's how he found his new wife hahaha. I was skeptical because he tends to be a bit overenthusiastic about every new thing he tries. Bought it, tested it, and I'm a believer. If anything else, it's an amazing confidence booster, but I feel it helps attract the ladies to me as well.
Jan 25, 2023
Good buy so far.
A good buy so far. I didn't think it would work but my wife reminds me to put it on whenever I forget lol.
Dec 30, 2022
Attention getter.
Attention getter for sure. I've used these colognes many times now in both daily work life as well as nights out. I get compliments from both female friends as well as strangers at bars. Subtle scent and it stays for a while on your skin.
Sep 28, 2022
Works pretty good.
Works pretty good. My wife gets a little heated when I wear it.
May 13, 2021
It does create opportunities for me.
I wanted to test this cologne out a few times before leaving my review. I've now used it in various different areas and situations and I'm shocked to report that this stuff actually works as described. Women aren't begging to jump in my bed, but I feel it does create opportunities for me to do my thing.
Jun 4, 2021
Girlfriend loves it.
girlfriend loves it.
Jun 8, 2021
Works well and for the price you get. Its a steal!
Amazon product! The scent lasts a long while when applied directly. Don't apply either products to your clothing as it WILL stain (learned that the hard way, should have read the directions). When applied to my skin I feel it lasts an extremely long time. Works well and for the price you get for both of these, it's a steal.
Oct 25, 2022
Scent lasts long.
Smells great, nice scent, lasts a long time. The oil is compact and easy to carry around in your pocket.
Mar 29, 2021
Excited to test it out.
Worked great for me the one time I used it. Excited to test it out more with more opportunities.
Apr 12, 2021
Okay Scent.
Didn't get any positive reactions from the women who smelled me, but I think it's an OK scent.
May 4, 2022
Patrick
Verified Purchase
Neutral Scent.
The fragrance seems a little bit neutral, which works well for me as I like to mix and match occasionally.
Mar 5, 2021
It leaked on my flight.
I had this on my checked baggage during a flight and it got all over everything! I didn't know it would leak otherwise I wouldn't have brought it!!!
Nov 17, 2021
Wonderful product.
Wonderful product. Scent is a bit more mild than I'm used to, but the pheromone effects seem to last long after the fragrance wears off. Women can still smell it, anyway. I always get good looks whenever I put this on while going out. Great purchase, will be purchasing again.
Apr 20, 2021
Got me ton of compliments.
Buy it, it got me a ton of great compliments
Jul 14, 2021
Smells Fantastic.
Cologne smells fantastic, I totally recommend! I get so many compliments now.
Sep 29, 2021
Love it
Gave this a try randomly from a big box store and when they stopped carrying it I came straight here to the source! "For Him" is amazing everyday.
May 8, 2023
Darrick
Verified Purchase
Love the smell & results
I love the smell of the cologne & liking the results too
May 24, 2023
A lot of compliments!
I'm amazed at how many women just started to enjoy being around me. Strangers and aquantainces alike! This is so much better than all of the expensive designer colognes found in the department stores. Save your money and get this - I feel it has changed my life, not even exaggerating.
Mar 28, 2023
Michael
Verified Purchase
Amazing
Overall a fantastic cologne. I receive a ton of compliments because it smells so great. I've been using this for years and won't be stopping anytime soon since it delivers such great results for me.
Apr 2, 2023
Disappointed
I'm disappointed this didn't bring back the heat with my SO
Apr 19, 2023
Great cologne
I think it's just the fragrance that gives you the confidence, but it still works nonetheless. Great buy.
Apr 24, 2023
Surprised
This stuff just smells GOOD.
Apr 28, 2023
Smells good
Excellent fragrance
May 13, 2023
Thumbs up
I was pleasantly surprised to see how great the packaging is. It feels like opening up a gift to myself. Anyway, the scent is also great. Just overall a good experience.
May 21, 2023
Strong smell, mid lasting, good price
A 10/10 on all aspects - the scent, the packaging, and the price. For the amount you get as well as the effects, the price SHOULD be much higher
May 7, 2023
Great manly fragrance
I highly recommend this product
May 16, 2023
Bharathkumar
Verified Purchase
Excellent
In a word it's excellent.
Jun 21, 2023
Shanti Pyaar
Verified Purchase
Men's for him gift set
Amazing product, absolutely love it! Would recommend! & purchase again. Thank you
Jun 22, 2023
Great smell
Long lasting strong smelling great cologne and oil!!
Jun 27, 2023
Smells great
Great smell and results
Jul 11, 2023
Great smell
My girlfriend and I love the smell and it's not to overpowering
Aug 31, 2023
Uriel Ortiz
Verified Purchase
Love this cologne
Been using this cologne for years and haven't found anything better. I get so many compliments and it's such a unique scent. This time I bought the oil along with it so I'm excited to try it too!
Aug 31, 2023
Christopher
Verified Purchase
Great Product!
Great product and honestly one of the best scents I've gotten
Sep 6, 2023
Thank you
{{ props.reason }}