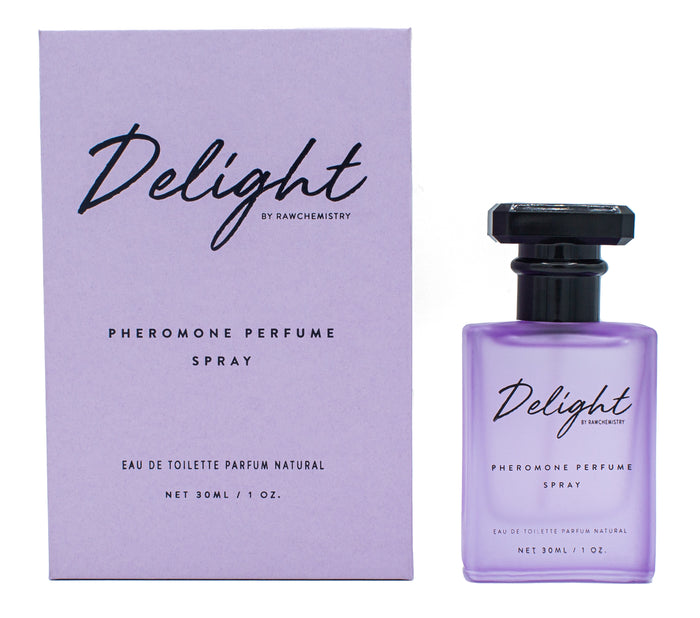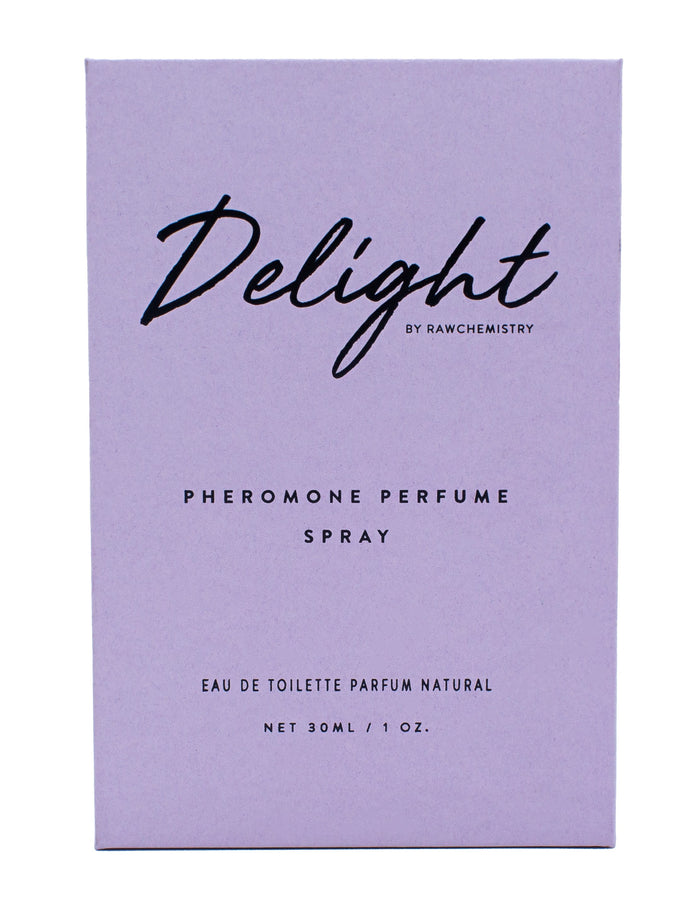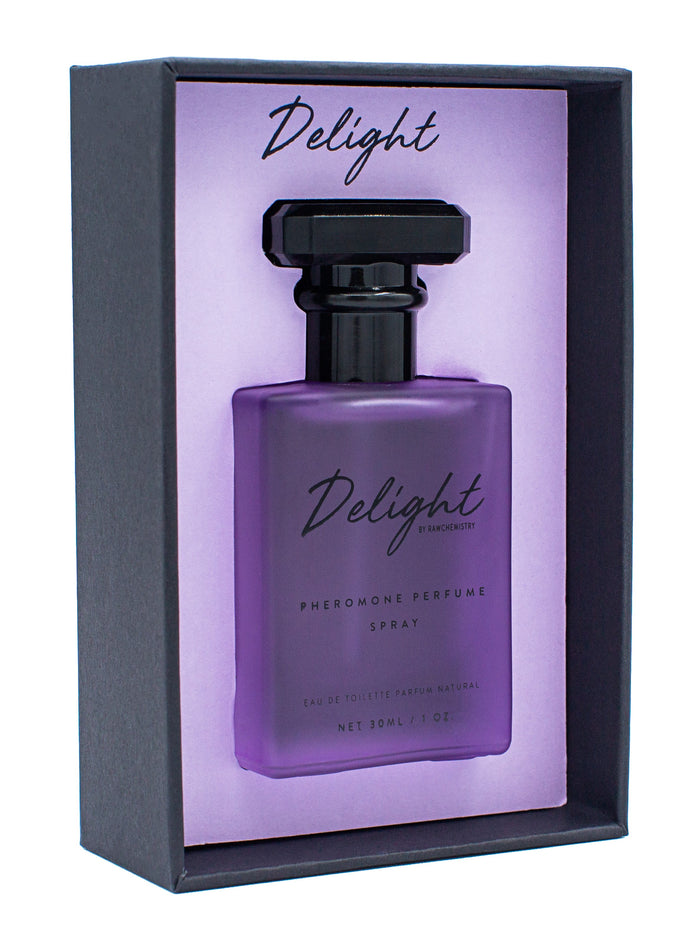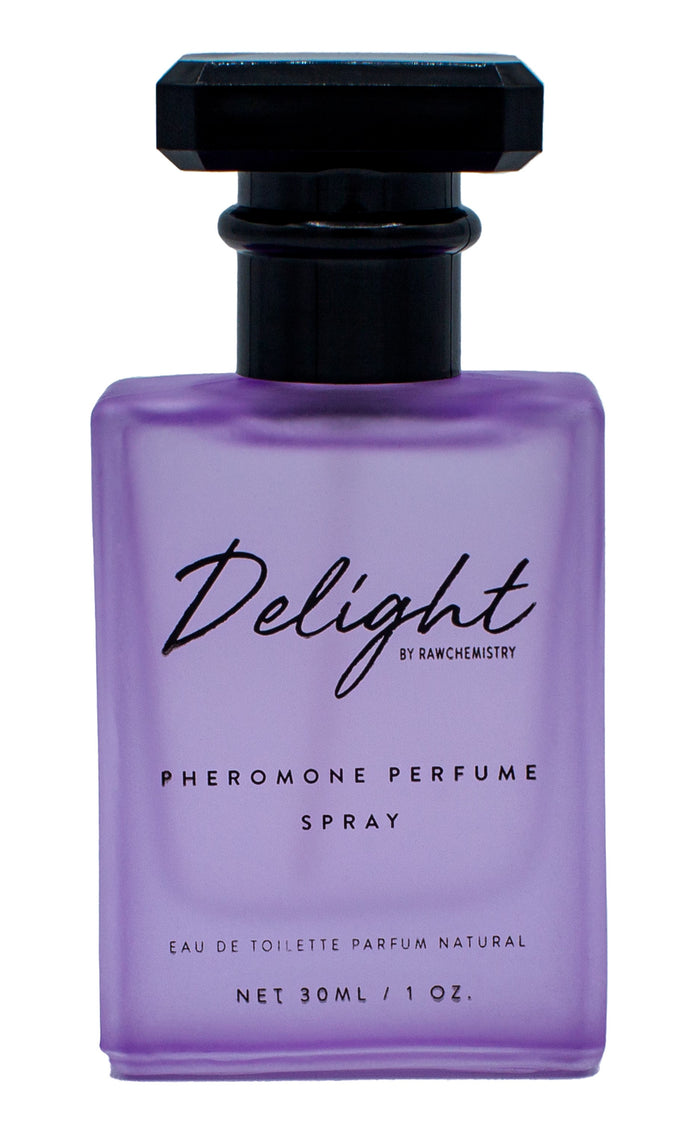 Delight Pheromone Perfume by RawChemistry
Delight by RawChemistry is an invigorating, enchanting perfume for women. It gifts a fascinating and alluring layer of mystery and elegance to your presence. This luxurious womens perfume delights the senses with multilayered, succulent florals, and familiar earth tones. Vibrant, sparkling fruit notes float above a fresh, clean musk. A seductive women's perfume, Delight by RawChemistry wears well through the day and into a sparkling nightlife. 
Highlights
Delight and enchant with light, pure florals, sensual jasmine, rich honey mimosa, stimulating sugar, and grounding earth notes of patchouli, sandalwood, and musk.
Crafted in the Pacific Northwest, our all-natural pheromone spray delivers the incredible fragrance and highest pheromone absorption.
This pheromone spray is designed to attract, entice connection, and boost confidence.
View Product FAQ
Size: 30ml
$29.90
Free Shipping on all US orders
A PERFUME TO AWAKEN YOUR CHARM AND AMBITIONS
This rousing women's fragrance blends beautifully with your natural pheromones, to create an intoxicating, memorable bouquet. Hints of sugar and mimosa float in the air, while deeper notes of patchouli and sandalwood linger sensually on your skin. Rich, smooth honey swirls into sumptuous, fruity florals, sweet pea, and jasmine. This complex pheromone perfume will enliven your presence, enhancing your confidence and sensuality.
Oils extracted from the top standard plants and seeds

Alcohol-Free, silk-based oil blend

Hand-inspected by our Pacific Northwest factory

Silk-Based All-Natural formula

Pure floral notes of soft jasmine and rich mimosa entice and delight

Rich, stimulating sugar creates intrigue

Musk, sandalwood, and patchouli base notes offer a grounding comfort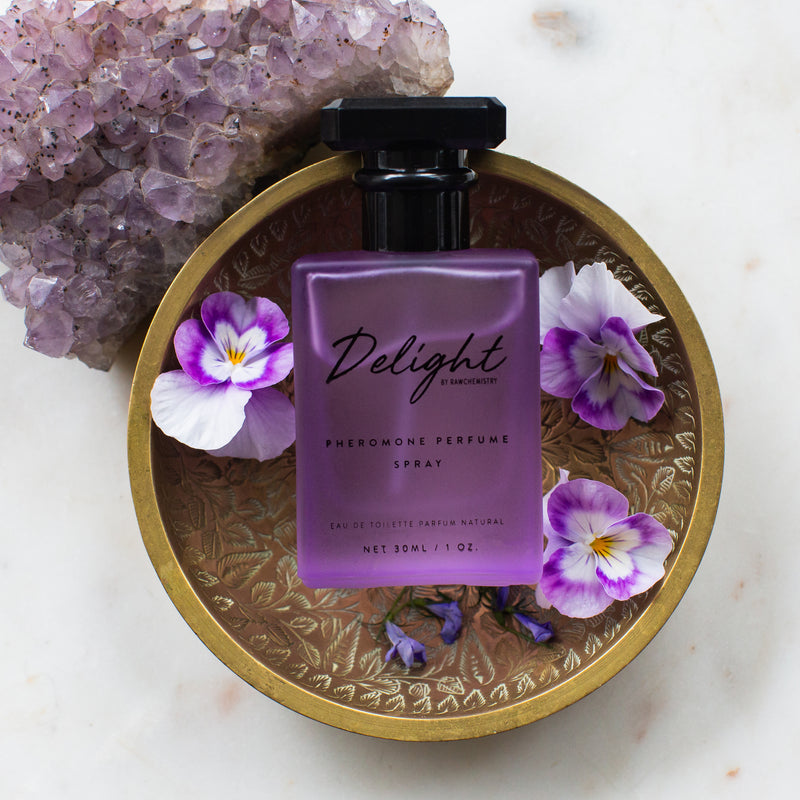 FAQ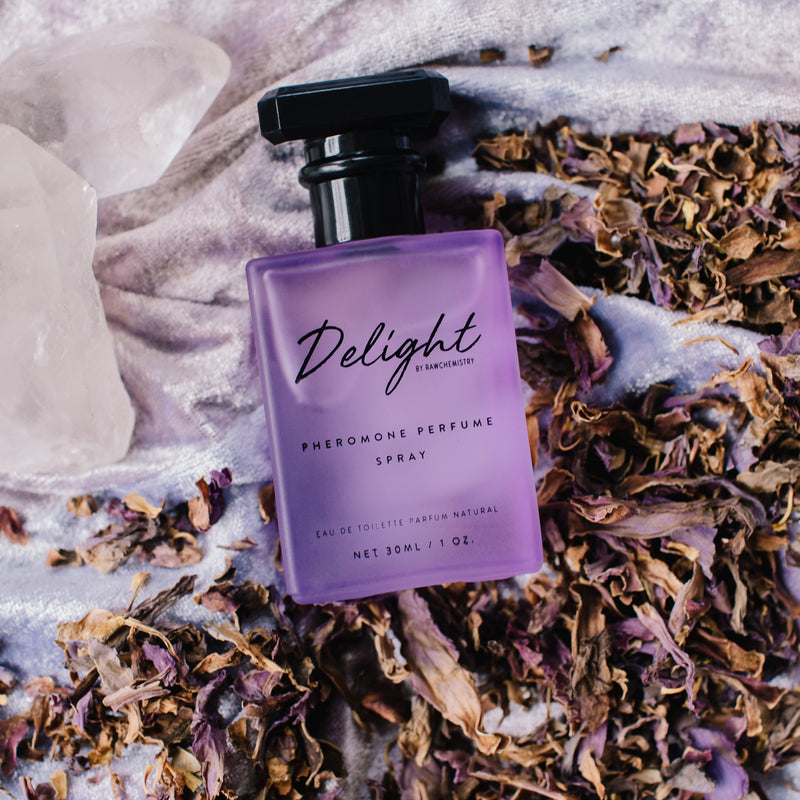 Where do I place the fragrance on my body?

Apply the given product to your heat points, also known as pulse points. These points are behind the ears, along the jawline and at the wrists. These are the nooks where your body naturally emits more heat and, therefore, maximizes the effect of the product.

How long does RawChemistry pheromone fragrance last? How often do I need to reapply?

The length a scent lasts depends on the wearer's skin. The drier a person's skin, the faster the product is absorbed by the skin. The more oil skin tends to have, the longer the product lasts.

For drier skin, to maintain freshness it typically requires application every 6 or so hours.

For more oily skin, the product may stay fresh as long as 10 hours.

How natural are the RawChemistry products?

Very natural. No silicones. No parabens. We keep our products as raw as our name implies. Rooted in a belief that what we put on our bodies matter, we provide an almost entirely organic product that truly delivers a holistic health experience for your daily routine.

What do your perfumes/colognes smell like?

The scent is an enigma. A mystery of sorts. The ingredients enhance a different sense to every nose and palette. While some declare they have an Earthy scent, others say Irish spring, while one more will claim vanilla. The only way to find out for yourself? Try a cologne or perfume.

What is inside RawChemistry products?

There are 27 various all natural oils and ingredients that come together to create the magnetizing, natural products.
What our customers have to say
Customer Review Images
Sensual and delightful!
I am so impressed with this perfume! It smells AMAZING and has a very mysterious, sensual scent to it.
Feb 16, 2023
Stephanie
Verified Purchase
I was Immediately Drawn in by the Scent.
I recently tried Delight pheromone perfume, and I have to say, I was immediately drawn in by the scent. The moment I opened the bottle, I knew it was the perfect scent for me. It has a light, sweet musky flavor that reminds me of other fine quality perfumes, but it's definitely unique and different. The thing I love most about this perfume is how it interacts with my skin. It's just beautiful and smells different on everyone. I would highly recommend giving Delight pheromone perfume a try, especially if you're looking for a scent that's both unique and alluring.
Nov 15, 2022
Heather
Verified Purchase
Both Long Lasting and Smells Amazing.
I recently purchased this Bliss perfume and I am absolutely in love with it. It has the best smell that I have ever come across. The fragrance is long lasting and stays with me throughout the day, which I really appreciate. Not only that, but the scent is incredibly attractive and has been known to draw people in. I've received a lot of compliments since I started wearing it, and it's quickly become my go-to scent. I just love how it makes me feel confident and alluring, no matter where I go. If you're looking for a pheromone perfume that's both long lasting and smells amazing, give this one a try!
Nov 22, 2022
Nallely
Verified Purchase
I am in love with how this Smells!
I am in love with how this smells!! Super sexy, intriguing, and makes me feel super confident every time I wear it!
Dec 2, 2022
Thought this was another Tiktok Craze But I was proven wrong.
Delight honestly smells better than I thought it would. I thought this was just another TikTok craze, but I was proven wrong. I've received so many compliments on it the one time I wore it out. I'm not sure if it's just because it smells "delight"-ful, or if it's the pheromones, but whatever it is, it's working.
Dec 5, 2022
Quickly become my absolute favorite now.
I'm not one to buy perfumes online without smelling, but the TikTok video made me buy it. This has quickly become my absolute favorite now, and will be buying again when I'm out!
Dec 12, 2022
The Smell you receive is Amazing!
For the affordable price the smell you receive is amazing and I'm looking forward to trying more perfumes
Dec 16, 2022
The "Secret Sauce" Works!
This just smells delicious to my husband, he can't explain it! The "secret sauce" works!
Jan 2, 2023
Jasmine
Verified Purchase
I have gotten so many compliments while wearing it!
I'm not sold on the attraction aspect of the perfume, but I do know that it smells amazing and I have gotten so many compliments while wearing it!
Feb 2, 2023
10/10
Smells great and lasts for a really long time, 10/10
Feb 27, 2023
Natural but Still Sexy!
For a clean perfume this smells really good! Natural but still sexy and alluring.
Mar 7, 2023
Isabella
Verified Purchase
I'm obsessed with how this Smells!
Omg! I'm obsessed with how this smells! It definitely changes once it's on my skin but it gets even better! Very sensual and not overbearing at all!
Mar 13, 2023
Valerie
Verified Purchase
Smells Alright
I don't believe the pheromone/attracting hype, but it smells alright
Mar 21, 2023
This is a must buy for any woman
Drove my man absolutely crazy. Could not keep his hands off of me! A must have for any women, single or coupled!
Mar 27, 2023
Love the smell
Definitely not too strong of a scent, it's light and sensual for sure. I love the way this makes me smell and feel, just so sexy
Apr 11, 2023
I learned something new!
I was a bit bummed with how quickly the fragrance wore off. I emailed support and the agent Kelsey explained that because it's an oil based perfume it needs to be applied to my skin in order to work properly. I had been applying it to my clothes and didn't even think to apply to my skin, but after I did, the smell started lasting all day long! Don't make the same mistake I did! Apply it to your skin and it lasts forever!
Apr 14, 2023
it's good
Pleasant musky smell. Makes me feel sexy.
Apr 26, 2023
So glad I found this
TikTok made me buy it and I'm so happy it did! I can't believe I had never heard of this company before. Delight smells so sexy and mysterious. It's the perfect perfume for date nights.
May 2, 2023
Senora Mickey
Verified Purchase
Sep 1, 2023
LOVED IT!
It drives myself and my fiance absolutely wild! We love it
Sep 13, 2023
Stacey Bennett
Verified Purchase
Smells delightful
Shipment fast and smells amazing. Love the boxing .
Sep 23, 2023
Thank you
{{ props.reason }}