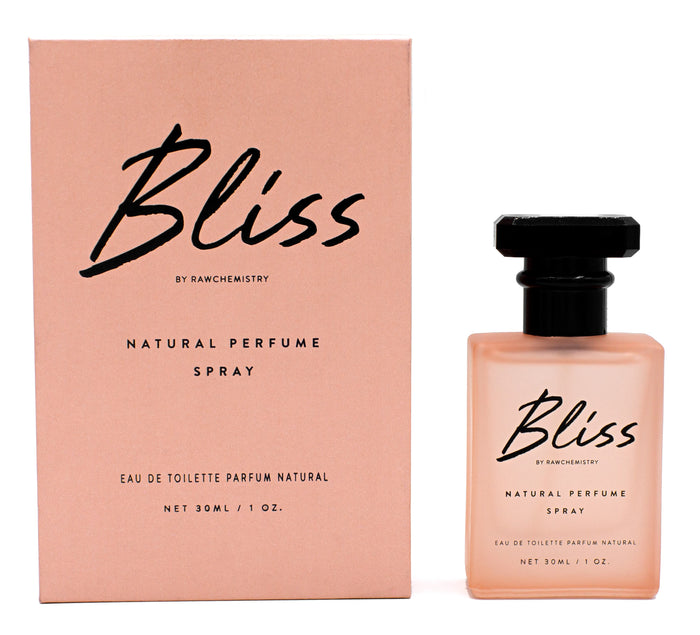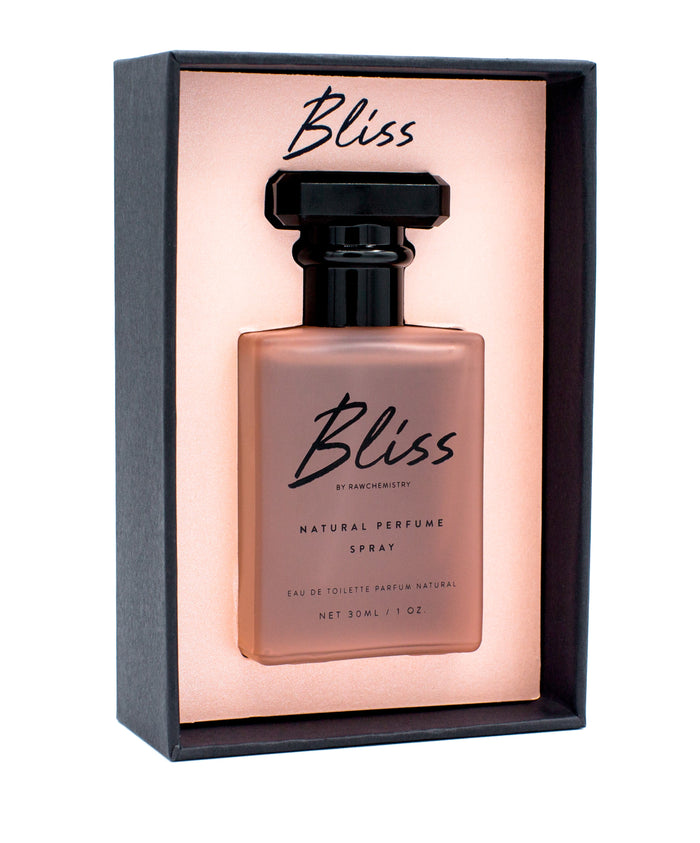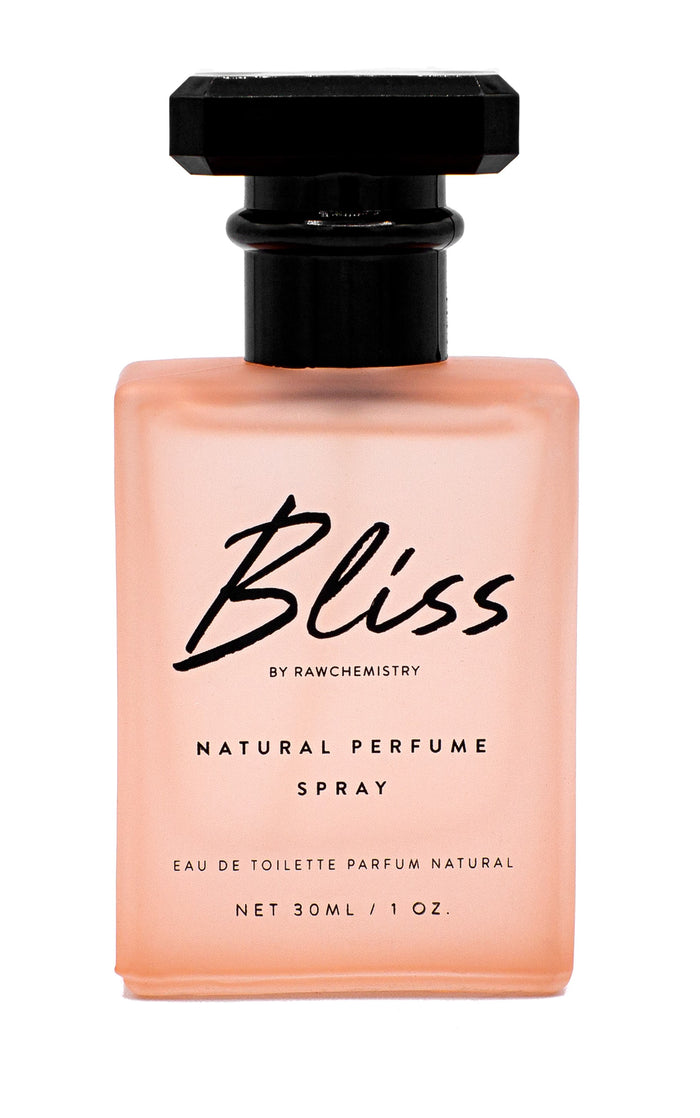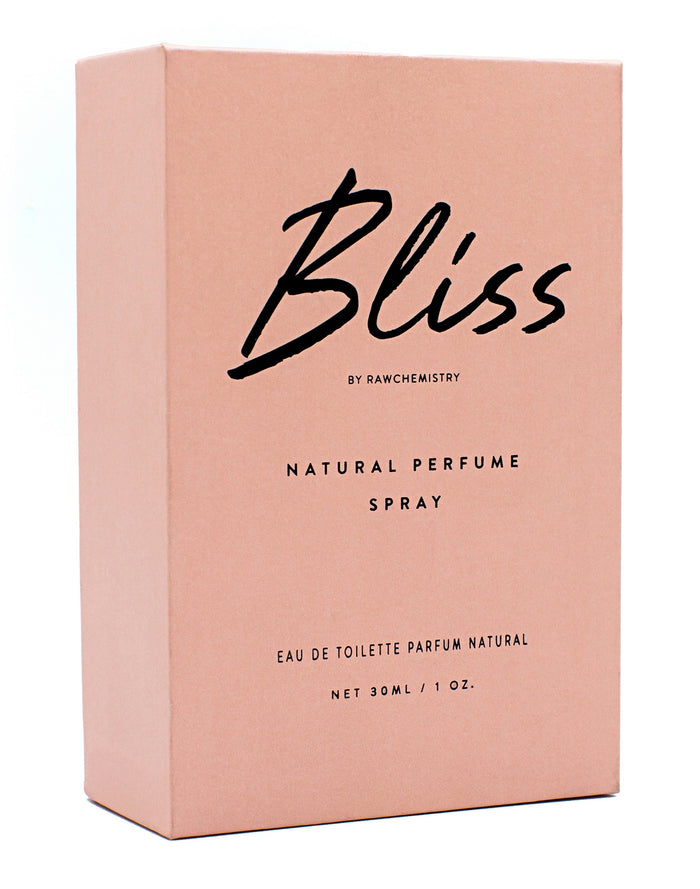 Bliss Pheromone Perfume by RawChemistry
Bliss by RawChemistry is a light, delicate perfume for women with a soft and sensual undertone. A spritz of Bliss by RawChemistry conjures visions of pastel sunsets, the sweet caress of ocean air, and thrill of pure romance. Wrap yourself in the loveliness of white florals and fresh honeysuckle, floating on a warm breeze. This blend of natural oils is a soft and succulent perfume for women, full of life and feminine essence.
Highlights
Bliss gentle uplifts and refreshes with a graceful and bright energy with elegant light green botanicals, sophisticated white florals, seductive jasmine, comforting sandalwood, and alluring musk.
This pheromone spray is designed to attract, entice connection, and boost confidence.
Crafted in the Pacific Northwest, our all-natural pheromone spray delivers the incredible fragrance and highest pheromone absorption.
View Product FAQ
Size: 30ml
$29.90
Free Shipping on all US orders
AN EXQUISITELY SENSUAL BOUQUET OF MUSK AND BOTANICALS
We created this womens perfume blend to enhance your innate appeal, with a petal-soft gentleness. Clean, green botanicals enliven the senses, and top notes of vanilla and honeysuckle offer a warm sweetness and cheer. Familiar sandalwood comforts, while musk stimulates intrigue, and jasmine entices. Allow our revitalizing womens fragrance blend to transport you to a state of Bliss - Uplifted, cheerful, and alluring.
Oils extracted from the top standard plants and seeds

Alcohol-Free, silk-based oil blend

Hand-inspected by our Pacific Northwest factory.

Fresh white honeysuckle invigorates

Jasmine blossom entices

Sandalwood comforts and inspires

Musk seduces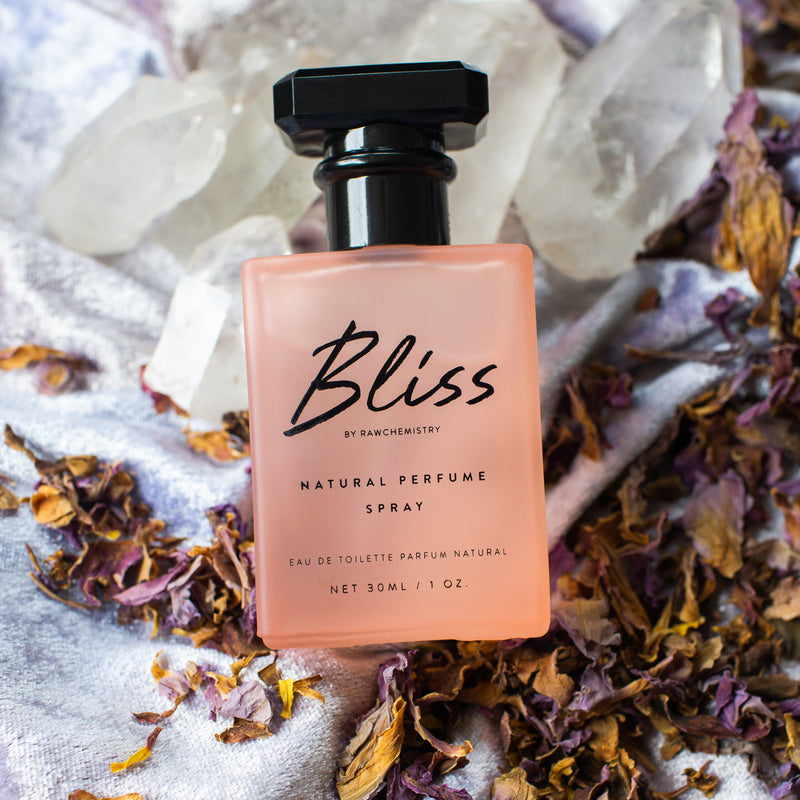 FAQ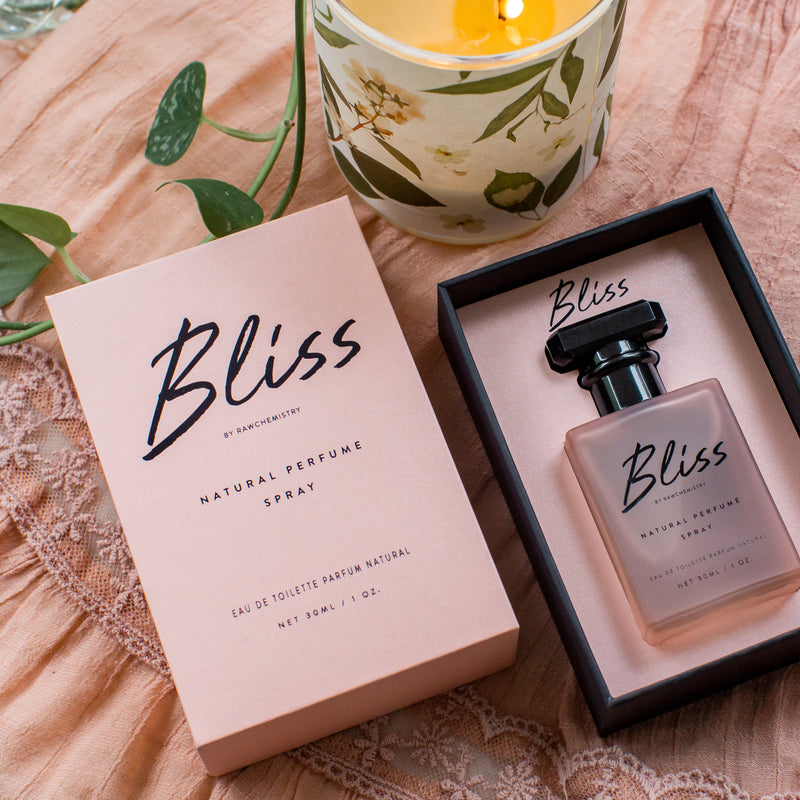 Where do I place the fragrance on my body?

Apply the given product to your heat points, also known as pulse points. These points are behind the ears, along the jawline and at the wrists. These are the nooks where your body naturally emits more heat and, therefore, maximizes the effect of the product.

How long does RawChemistry pheromone fragrance last? How often do I need to reapply?

The length a scent lasts depends on the wearer's skin. The drier a person's skin, the faster the product is absorbed by the skin. The more oil skin tends to have, the longer the product lasts.

For drier skin, to maintain freshness it typically requires application every 6 or so hours.

For more oily skin, the product may stay fresh as long as 10 hours.

How natural are the RawChemistry products?

Very natural. No silicones. No parabens. We keep our products as raw as our name implies. Rooted in a belief that what we put on our bodies matter, we provide an almost entirely organic product that truly delivers a holistic health experience for your daily routine.

What do your perfumes/colognes smell like?

The scent is an enigma. A mystery of sorts. The ingredients enhance a different sense to every nose and palette. While some declare they have an Earthy scent, others say Irish spring, while one more will claim vanilla. The only way to find out for yourself? Try a cologne or perfume.

What is inside RawChemistry products?

There are 27 various all natural oils and ingredients that come together to create the magnetizing, natural products.
What our customers have to say
Customer Review Images
Smells Delicious
I'm so glad I decided to give Bliss pheromone perfume a try. It smells absolutely delicious, and it only gets better as it mixes with my body chemistry. I will definitely be a return customer, and I can't wait to try more of their products.
Nov 28, 2022
Married or trying to attract a man? This is IT!
sis, you need this in your arsenal. Whether you've been married for years and are trying to spice things up (like me), doing your whole ONS phase, or trying to attract a man, this is IT.
Dec 27, 2022
My Go-to -Scent!
This Bliss pheromone perfume has quickly become my go-to scent. The floral notes are simply delicious, and I can't get enough of it. My husband is always attracted to me when I wear it, and I receive compliments every time we go out for the night.
Jan 3, 2023
Chrystal
Verified Purchase
The Scent is Simply Delicious!
If you're looking for a pheromone perfume that smells amazing, then Bliss is the one for you. The scent is simply delicious, and it definitely attracts attention from others. My boyfriend can't get enough of it, and we always have a sexy night out when I wear it.
Jan 16, 2023
The Floral Scent is Simply Amazing!
If you want to feel confident and sexy, then this Bliss pheromone perfume is the one for you. The floral scent is simply amazing, and it definitely attracts attention from others.
Jan 18, 2023
Receive So Many Compliments from both Men and Women.
I receive SOOO MANNNYYYY compliments each and every time I wear this, from both men and women alike!
Jan 19, 2023
You need this in your Arsenal.
Sis, you need this in your arsenal. Whether you've been married for years and are trying to spice things up (like me), doing your whole ONS phase, or trying to attract a man, this is IT.
Jan 26, 2023
Melissa
Verified Purchase
Its Overly Strong.
Its overly strong and way too floral for my taste. I'd like to return.
Feb 22, 2023
Floral
Enticing and alluring smell to it
Apr 2, 2023
Katherine
Verified Purchase
In love with this perfume!
I was a little bit nervous at first because I didn't think I liked the smell at first. But once I sprayed it on I fell in love and my boyfriend absolutely loved it too! It's a very floral scent to it and I just adore it! Makes me feel very feminine. I'll be ordering more here soon!
Apr 18, 2023
I hate floral scents
and this wasn't any different. Returned and got the Delight which was much better for my tastes. 5 star experience with customer support, 1 star experience with the Bliss perfume specifically.
May 4, 2023
happy with my purchase
i love the fragrance. it smells so pretty, the packaging is secure and I'm overall just happy with my experience
May 23, 2023
Thank you
{{ props.reason }}