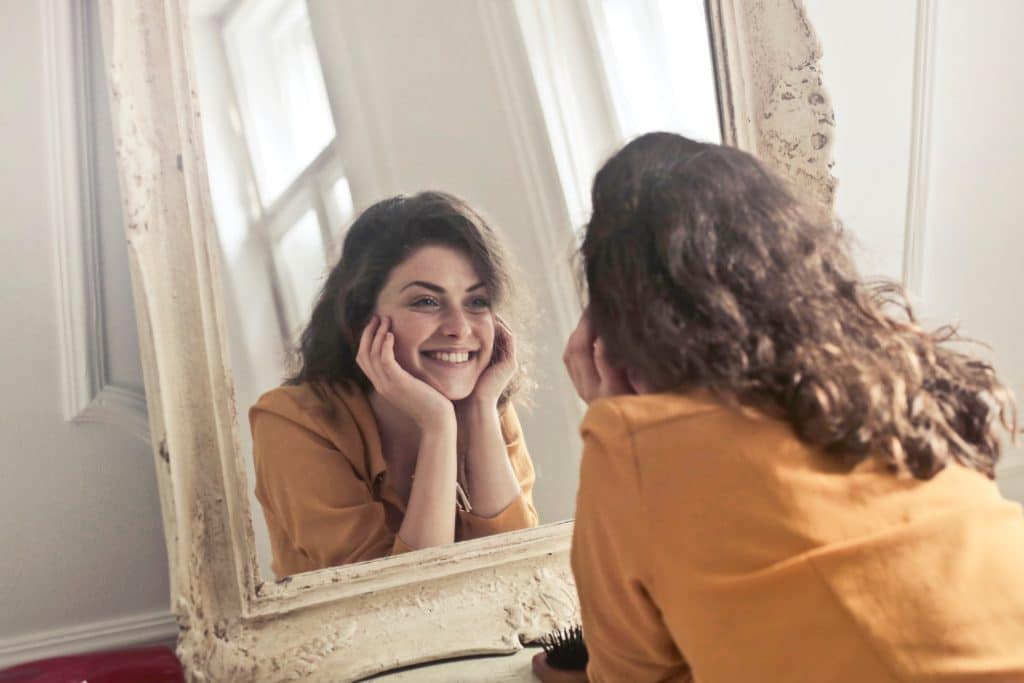 How to Prevent Acne Naturally - With No More Dermatologist Visits
You're (beyond) ready to get rid of acne. In addition to desiring clear and glowing skin, you want to remove chemicals from daily beauty routines.
That's why your latest question has been - how to prevent acne naturally - and for good.
After all, acne is not simply a physical blemish.
The redness, scars and inflammation of acne takes a toll emotionally - as you may understand.
Natural remedies to heal acne - and emotional anxiety it brings
Especially in a society where we see such beautiful (photoshopped) images everywhere, when we look in the mirror and see acne reflected back...it really does affect us psychologically. Acne has us feel less confident.
Red cystic acne has us walking through the door of the party, wishing we could check our concealer one more time.
Pimples make us less inclined to snap a picture with our friends. Then, it's easy to feel sad to look at the photo -
Because what do we see?
It's the acne we focus on...not beautiful eyes or a gorgeous smile, which you absolutely have.
I don't have to tell you that, though. If you're here, on this blog because you want to get rid of acne, you know these emotions too well yourself already.
Thankfully, the new movement to go natural is not only better for the environment - it's the realistic route to great skin that no dermatologist has probably shared.
Let's get your skin a detox and revamp - showing you what is needed to know how to prevent pimples naturally at home.  
Over false promises - here's why to go natural
It's not that most of us have not tried to get rid of acne. Quite the contrary. We've tried solution after solution. Maybe you've:
Purchased a product from an infomercial


Tried prescriptions from the dermatologist - which had a really long, scientific-sounding name.
(And even if it helped with the acne, there were other side effects - like hyper-dry skin or a higher tendency to sunburn.)


Followed a variety of beauty blogs, desperate that one of their face masks would do the trick (Instead, we end up with sea salt chocolate masks...and the salt falling into our eyes!)
Know that you are not alone. And even if you have tried a variety of options and still do not have the skin you desire, there are fantastic options you have likely not tried yet - that can do more healing for acne than you ever thought possible.
In this blog, we are focusing on the benefits of a little-known natural gems - specific Vitamins and oils to be exact.
These are natural ingredients that are incredibly potent and effective - yet not highly discussed in most media as acne healing.
Before we share these items that help prevent pimples naturally at home?
Let's talk about WHY to go natural vs "the strong stuff" - aka chemicals.
Why go natural vs. common products in the media
Most beauty products you see advertised in big publications are loaded with all types of scientific sounding names.
A lot of these chemicals may tackle acne on the surface level, however, they also have a lot of negative side effects. For example, strong chemicals on your face create damage - causing dryness and inflammation, which irritate and cause further problems.
In contrast, your body knows what to do and how to respond when an ingredient, from nature, is placed upon it.
What natural ingredients to work into your skin routine
Here are specific ingredients to work into both your morning and nighttime skincare rituals.
Vitamin B5 - It soothes and heals your skin, including acne scars


Rosehip seed oil - A true natural wonder, rosehip is known for regenerating skin cells and repairing damage to skin tissue


Vitamin A - This vitamin is essential for encouraging the skin cell production that helps to heal acne and old spots


Avocado oil - Not only for cooking, this oil helps the skin be soft and smooth. In addition, it helps to heal acne scars and skin damage


Aloe vera - This succulent's sap has an incredible capacity for healing, from hydrating old spots to decreasing the "flaky-ness" of dry skin

(Explore the full benefits of aloe vera for skin and acne)
A face mask containing these ingredients, such as an aloe vera face mask or use of avocado oil, once in a while is better than no natural ingredients at all.
However, it is best to use these natural ingredients every single day.
With continued applied use, it is amazing the results most people see - no matter how intense their acne had been before or the number of solution they had tried.
How to prevent  pimples naturally at home...in one step
While you could try to apply each of these nutrients above and oils one-by-one, the most seamless (and most cost-friendly way) to do so is to apply a cream with all of the above infused into it.
To see how much acne could be reduced, try this incredible vegan moisturizer, infused with these benefits.