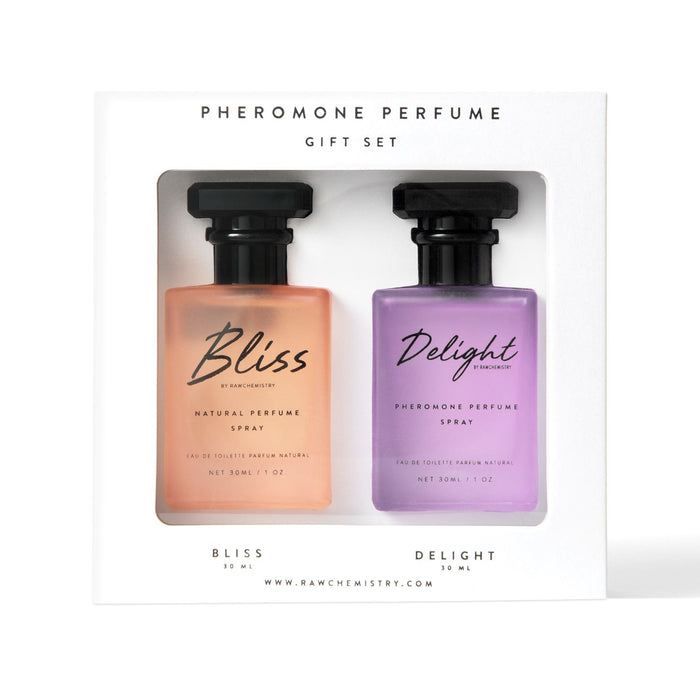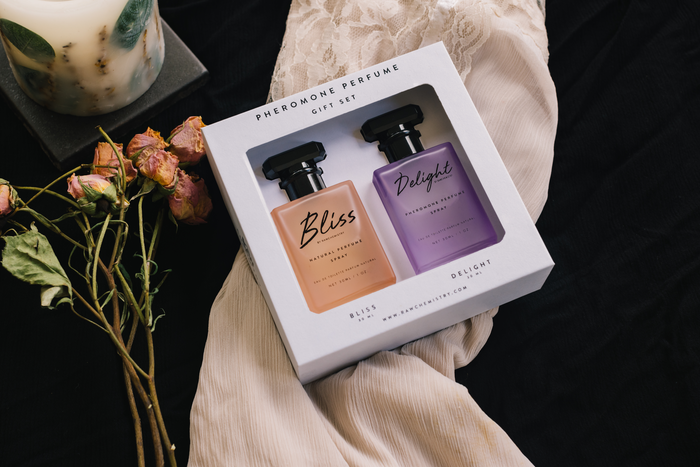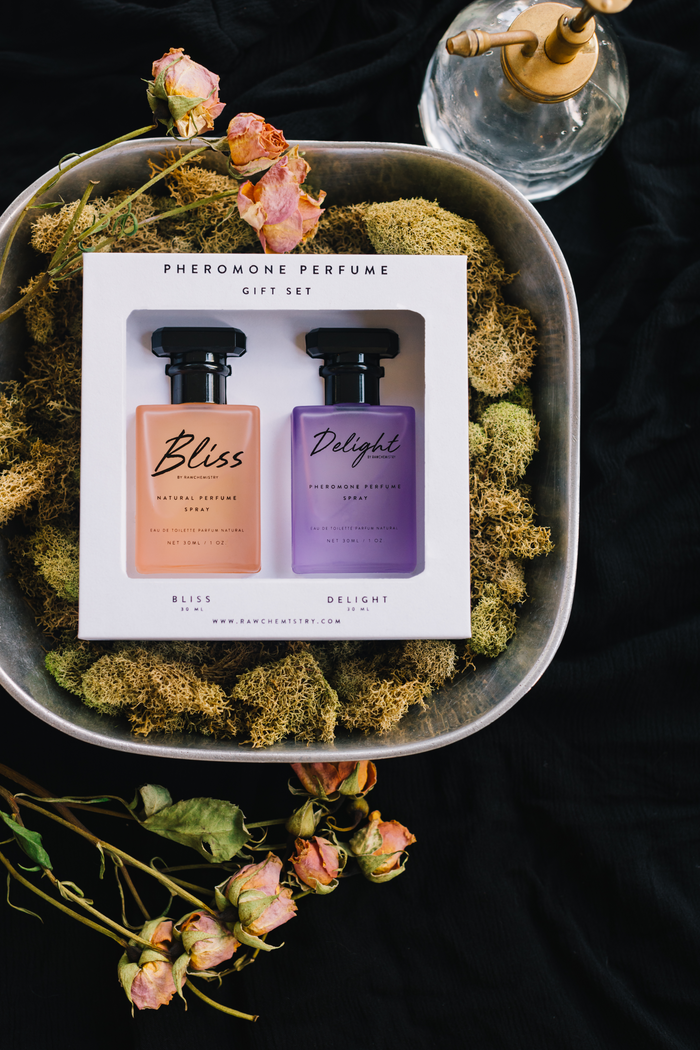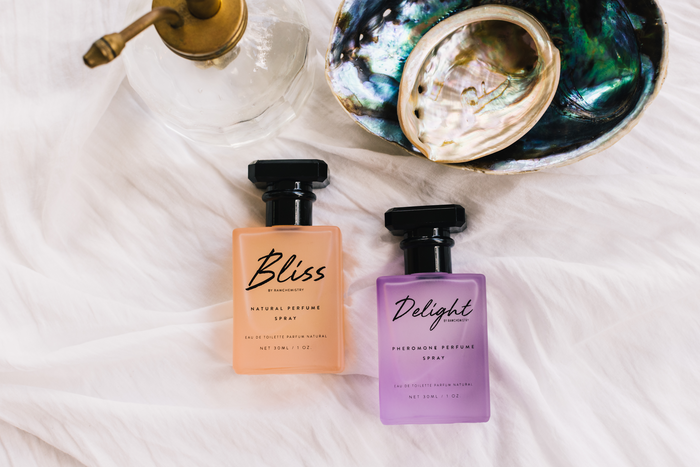 Pheromone Perfume Gift Set
Our RawChemistry Pheromone Perfume Gift Set will not only tantalize the senses, it uses the power of pheromones to reignite the confidence and poise within - making it the best perfume for women ever.
Highlights
Delight by RawChemistry is an invigorating, enchanting perfume for women. It gifts a fascinating and alluring layer of mystery and elegance to your presence.
Bliss by RawChemistry is a bright and energizing perfume for women. It lifts you up on a fresh, floral breeze and gently lands with sensual musk and sandalwood undertones.
Crafted in the Pacific Northwest, our all-natural pheromone spray delivers the incredible fragrance and highest pheromone absorption.
This pheromone perfume set is designed to attract, entice connection, and boost confidence.
View Product FAQ
Size: 2 fl. oz.
$39.90
Free Shipping on all US orders
We created these womens perfume blends to enhance your innate appeal with a petal-soft gentleness, or an invigorating, enchanting perfume to fit whatever mood you're looking for. Allow our revitalizing womens fragrance blend to transport you to a state of Bliss and Delight.
Our natural pheromone perfume for women is the ultimate accessory to elevate your presence. Hand-crafted in the heart of the Pacific Northwest, we believe in the power of nature and beauty.
Bliss provides clean, green botanicals enliven the senses, and top notes of vanilla and honeysuckle offer a warm sweetness and cheer.

Familiar sandalwood comforts, while musk stimulates intrigue, and jasmine entices

Delight is a rousing womens fragrance that blends beautifully with your natural pheromones, to create an intoxicating, memorable bouquet.

Hints of sugar and mimosa float in the air, while deeper notes of patchouli and sandalwood linger sensually on your skin.

Oils extracted from the top standard plants and seeds

Alcohol-Free, silk-based oil blend

Hand-inspected by our Pacific Northwest factory

Silk-Based All-Natural formula

Natural blend of oils and pheromones
Learn more about RawChemistry's Pheromone Perfume Gift Set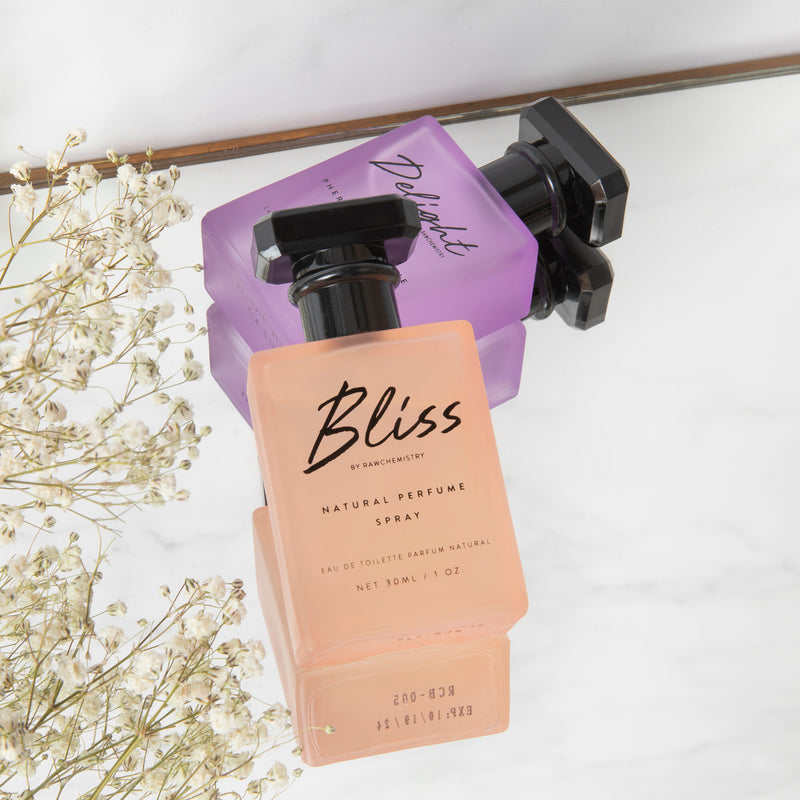 Where do I place the fragrance on my body?

Apply the given product to your heat points, also known as pulse points. These points are behind the ears, along the jawline and at the wrists. These are the nooks where your body naturally emits more heat and, therefore, maximizes the effect of the product.

How long does RawChemistry pheromone fragrance last? How often do I need to reapply?

The length a scent lasts depends on the wearer's skin. The drier a person's skin, the faster the product is absorbed by the skin. The more oil skin tends to have, the longer the product lasts.

For drier skin, to maintain freshness it typically requires application every 6 or so hours.

For more oily skin, the product may stay fresh as long as 10 hours.

How natural are the RawChemistry products?

Very natural. No silicones. No parabens. We keep our products as raw as our name implies. Rooted in a belief that what we put on our bodies matter, we provide an almost entirely organic product that truly delivers a holistic health experience for your daily routine.

What do your perfumes/colognes smell like?

The scent is an enigma. A mystery of sorts. The ingredients enhance a different sense to every nose and palette. While some declare they have an Earthy scent, others say Irish spring, while one more will claim vanilla. The only way to find out for yourself? Try a cologne or perfume.

What is inside RawChemistry products?

There are 27 various all natural oils and ingredients that come together to create the magnetizing, natural products.
What our customers have to say
Customer Review Images
So good
I've been searching for a signature scent that was natural and not too overpowering, as I'm sensitive to smells, and these have been awesome! Bliss is light and fresh and Delight is something like I've never encountered. It boosts my confidence each time I wear it! Love them!
Mar 12, 2023
Allison
Verified Purchase
This is SUPER sexy!
Y'all, I bought this as a gift to myself because I've been looking for something that makes me feel and smell super sexy. While Bliss might be great for daily wear, to work or out with friends, if you're looking for something SUPER sexy, you cannot go wrong with Delight! At first sniff I was absolutely hooked and will be using both of these forever and ever! Ladies, you will NOT REGRET IT!
Dec 27, 2022
Definitely a win!
I found both scents to be light, but they definitely draw you (and men) in. They smell really good, even for how subtle they are. Not fruity (yuck!) at all, and both are very feminine, strong (but not overbearing!) fragrances. Definitely a win!
Feb 13, 2023
Bridget
Verified Purchase
Falling in love with these scents.
Once spray and I fell in love with them both! I honestly can't choose a favorite. They're both subtle fragrances but each are very different from each other. They both give off completely different vibes which I think is great!
Feb 14, 2023
My daily perfume.
Delight is stronger in scent for sure, but Bliss personally has become my favorite and daily perfume.
Mar 20, 2023
Amazing
Both of these smell so good. I don't have a preference. I can see myself wearing one during the day while alternating to the other during the night. I think the price is very reasonable for two amazing perfumes. The only issue I have is that one of the tops was very hard to get off, whereas the other top was cracked and some of the perfume had leaked out.
Apr 16, 2023
Buy them
Both scents are amazing and at a great price. Now I want to buy all the male colognes for my husband. I wish that the tips didn't leak though.
Apr 16, 2023
Beautiful scents
I've been using the original For Her scent for years now and have loved it. These two are just as gorgeously scented, love both of them. Definitely a must have to my scent collection!
May 17, 2023
Both scents are good
But delight is just a bit better imo. They're so incredibly different that you'd have fragrances for whatever events or situations you'll ever be in. Bliss is very floral, delight is a sexy, late night kind of perfume vibe.
May 16, 2023
Priscilla
Verified Purchase
I love this set
Being alcohol-free and oil based I was a little nervous about breakouts but I'm so happy to report that it actually makes my skin feel better! Lasts for a super long time!
May 9, 2023
Husband loves them
I just can't get over how pretty the packaging is, I was not expecting that at all! I'll be wearing both of these constantly!
Apr 19, 2023
You won't regret getting the set!
I'm somewhat of a pheromone perfume expert as that's really all I ever wear, and these are by far my favorite. I'm so glad I got the set because they're both so different but SO GOOD!
Apr 7, 2023
love-love-love Raw
I have been wearing the raw pheromone perfume and oil for years. I am so excited to try these two new fragrances, delight and bliss. The first moment I put the bliss on both my husband and my roommate made a comment of how great I smelled! Bravo, Raw Chemistry, bravo.
May 25, 2023
Alyssa shea
Verified Purchase
Beautiful packaging
Really love how pretty and timeless the bottles are. I currently have the step sitting out on shelf for display. The scents are also not to overwhelming.
Jun 18, 2023
Absolutely exceeds expectations
This gift set exceeded my expectations. Both scents individually are fantastic and pairs with your own body chemistry makes it even more intensely intoxicating max my husband absolutely falls head over heels when I wear these even more so than normal. Completely strangers compliment me. Just amazing product over all
Jul 24, 2023
Danielle T
Verified Purchase
Love!
Loved the delight a friend had so ordered the set love both definitely fits different moods! Love how it changes on everyone.
Sep 28, 2023
Araceli Degante
Verified Purchase
Oct 2, 2023
Thank you
{{ props.reason }}