Pheromone Cologne Gift Set
Whether it's a long day at the office, jumping out of the shower at the gym, or enjoying an exhilarating night out, each of these pheromone colognes add a boost of raw masculine appeal to your presence. These versatile men's pheromone colognes stimulate the senses, creating a desire for more.
Highlights
For the mountain man in us all, Raw Men's Pheromone Cologne gives you the edge you need to conquer the most challenging of obstacles.
Midnight by RawChemistry Pheromone Cologne for Men is the scent infused with human pheromones that gives you the edge to walk into a room with an air of confidence and a commanding presence that can be felt throughout the crowd.
Vigor by RawChemistry Pheromone Cologne is a rugged fragrance for men built from unrefined elements of nature, world travels, and intimate moments. 
View Product FAQ
Size: 3 fl. oz.
$59.90
Free Shipping on all US orders
PHEROMONE COLOGNE FOR THOSE WITH TRUE GRIT
Hand-Crafted right here in the Pacific Northwest, we know a thing or two about life in the mountains. And just like the mountain man at heart, our formula is rooted in nature. These rugged fragrances for men is built from unrefined elements of nature, world travels, and intimate moments. RawChemistry's Pheromone Cologne Gift Set blends with your own pheromones to create an experience unlike any other. This is the best cologne for men to add a robust layer of strength and trustworthiness, from the workplace, to nightlife, to the wild, and everywhere in between.
Oils extracted from the top standard plants and seeds

Alcohol-Free, silk-based oil blend

Hand-inspected by our Pacific Northwest factory

A blend of natural oils that assist in attracting through the sense of smell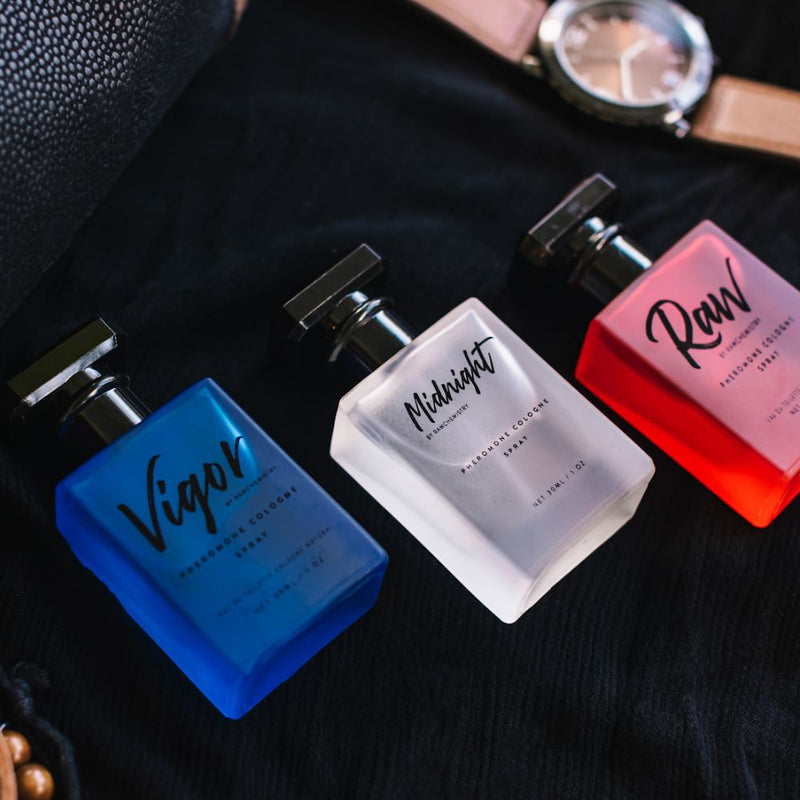 Learn more about RawChemistry's Pheromone Cologne Gift Set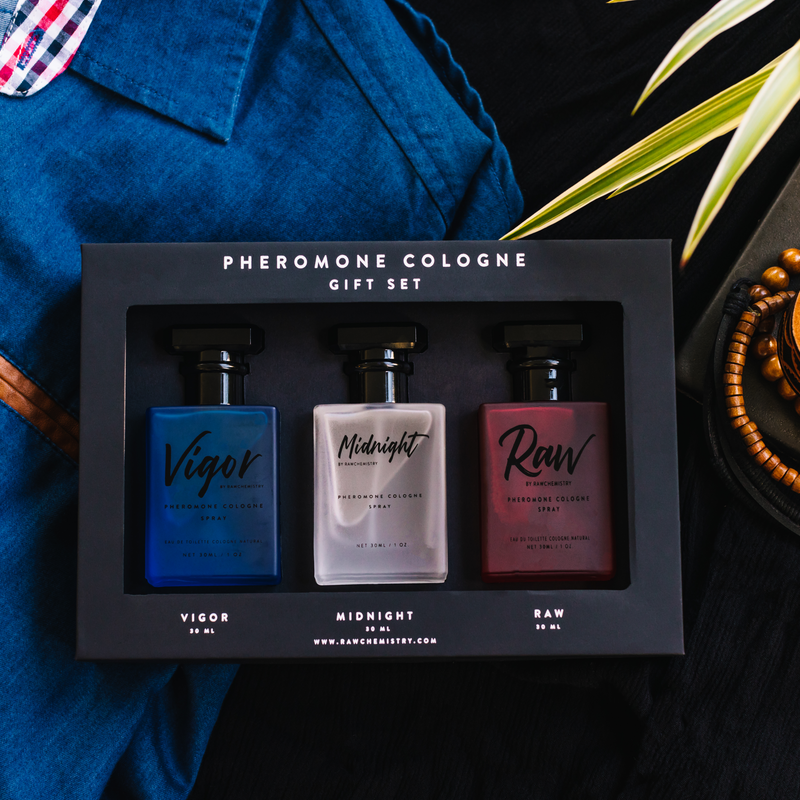 Where do I place the fragrance on my body?

Apply the given product to your heat points, also known as pulse points. These points are behind the ears, along the jawline and at the wrists. These are the nooks where your body naturally emits more heat and, therefore, maximizes the effect of the product.

How long does RawChemistry pheromone fragrance last? How often do I need to reapply?

The length a scent lasts depends on the wearer's skin. The drier a person's skin, the faster the product is absorbed by the skin. The more oil skin tends to have, the longer the product lasts.

For drier skin, to maintain freshness it typically requires application every 6 or so hours.

For more oily skin, the product may stay fresh as long as 10 hours.

How natural are the RawChemistry products?

Very natural. No silicones. No parabens. We keep our products as raw as our name implies. Rooted in a belief that what we put on our bodies matter, we provide an almost entirely organic product that truly delivers a holistic health experience for your daily routine.

What do your perfumes/colognes smell like?

The scent is an enigma. A mystery of sorts. The ingredients enhance a different sense to every nose and palette. While some declare they have an Earthy scent, others say Irish spring, while one more will claim vanilla. The only way to find out for yourself? Try a cologne or perfume.

What is inside RawChemistry products?

There are 27 various all natural oils and ingredients that come together to create the magnetizing, natural products.
What our customers have to say
Customer Review Images
The redone smells masculine.
The red one is the only one I think smells even remotely masculine. I should have bought that one by itself and not wasted the money on 2 others that I won't ever use.
Jan 17, 2023
These are hits for me.
Raw and Vigor are hits for me, but Midnight I found to be lacking.
Jan 4, 2023
Very pleased with the fragances.
All of the fragrances are great. The scents, the sizes, the effects, all of it was great. Very pleased that I went with this 3 pack instead of buying them all separately at different times.
Jan 12, 2023
Great effects using Raw and Midnight.
Great effects from using Raw and Midnight. Haven't tried Vigor yet but will update this review when I do.
Jan 13, 2023
It matches the desires of any type of woman.
Great set of scents, there's a little bit of everything with these to match the desires of any type of woman you're looking for.
Feb 1, 2023
I got powerhouses on my arsenal.
It's great to know I have these 3 powerhouses in my arsenal whenver looking for attention from women.
Jan 2, 2023
Love these colognes.
Love each of these colognes. I wish they came in the concentrated oils though like the For Him. Raw Chemistry, make it happen!
Feb 28, 2023
Adrianne
Verified Purchase
This gift set is a steal!
My friend suggested Raw Chemistry products to me after she says it helped make her closer to her husband. I bought this for my husband too and he (and I!) love each of them for different situations. The price makes this gift set a steal!
Dec 12, 2022
Exactly what I was looking for.
None of these are super strong, which is exactly what I was looking for. I wouldn't say that they're soft scents, just subtle and more natural smelling than other colognes at this price point. I can't believe Raw Chemistry is selling all 3 at this great price. I definitely get more attention when I wear these than any other colognes which is exactly what I was looking and hoping for. Overall, very impressed, and recommend it to everyone.
Jan 18, 2023
All of them smell nice.
Raw is probably my favorite, but all 3 of them smell nice. They all last a long time. Have had compliments with each of them.
Mar 6, 2023
Seems to work.
Seems to work, I get a lot of compliments whenever I wear any of these.
Jan 20, 2023
Incredible.
These colognes are incredible and work amazingly well.
Mar 1, 2023
Got me a lot of attention.
These get me a lot of attention whenever I wear them out. They last a long time and I get so many compliments.
Mar 8, 2023
Will be buying again
Will be buying again when I run out. Midnight smells the best IMO
Dec 23, 2022
Nicolas
Verified Purchase
No Title
I bought the packet for $40 plus tax and man can I tell you it's the best thing I have ever purchased and will definitely be buying from RAW again.
May 6, 2023
Jeffrey miller
Verified Purchase
Mr
I just received midnight and raw sprays in the mail. I opened them up put them on. They smelled amazing plus my lady friends loved them too. I recommend this product for any guy, considering the Response I got was amazing.
May 16, 2023
New Happy Customer
I have been using Realm for years until i heard about this new Cologne and besides been non intrusive, last several hours and my nose doesn't get itchy.
I do highly recommend all flavors! 🎉
May 23, 2023
steven kashmark
Verified Purchase
Gift Pack
they all smell great and have specific activities I use each for. I bought to see how it would affect my girlfriend and she loves them.
May 25, 2023
Men's cologne set
Just received set .excellent fragrances . All of them are unique and smell great!
Jun 21, 2023
Thank you
{{ props.reason }}